Nikki Kimball has always tried to do the right thing. When she got pregnant at 18 she married the father of
her baby, who turned out to be a low life cheating creep. She took in her lazy, ex-con brother in the hopes
her parents would accept her. But now she has not one but two guys interested in her, but how will she
choose when she has feelings for the both of them?
Dillon Barnett comes from a large and loving family and has always had a thing for Nikki, and he has always sensed Nikki felt the same way. He stood by while her ex fooled around and now that she is finally free he is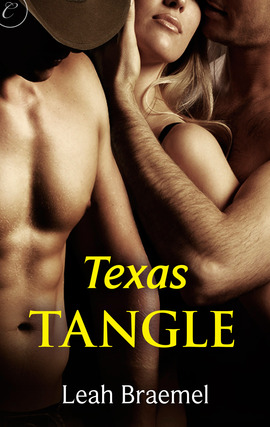 going to make a move for her. The problem is that his foster brother and best friend Brett Anderson has feelings
for her too.
Brett has always been in love with Nikki but tries to do the right thing in letting Dillon have a chance with Nikki. He is grateful for his family taking him away from his abusive father. But it is getting harder and harder to watch Nikki with Dillon.
TEXAS TANGLE by Leah Braemel is labeled a menage but it is so much more. It is about three people who are destined to be together no matter what they Carina Press think is socially acceptable. Nikki, Brett and Dillon each
must work through their self doubts to make their relationship work.
I cannot recommend TEXAS TANGLE enough it is definitely in my keeper pile and going to be re-read more
then once.